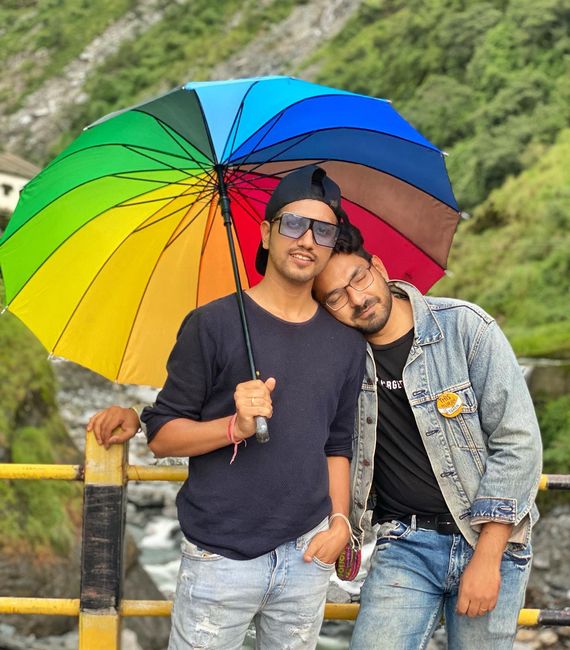 We met in Bombay - building our dreams. Pardeep came as a replacement in our flat. I would often host small gatherings in my house for my colleagues/friends. During a house party, I walked into his room to check on the "new flatmate" & when I saw him all I said was "wow." I still don't know why! He looked stunned. That day is on my mind like a vivid picture.
We started chatting & I offered him a drink. HE SAID NO. In my mind, at 24, if someone is offering me a drink - I'd never say no. But eventually, he came for the party & I offered him whiskey. He asked me, "Beer nahi hai?" My exact reply was, beer kaun peeta hai?
He took the drink & sat on the floor - our eyes locked. We immediately knew it was something. Later that night, I walked into his room & fed him dinner with my own hands. I've been fed by many people in my life but for Pardeep it was his first. Though we were not open about our inclinations - there was a spark. We also kissed that night (after he did the dishes)! I fell in love with him on my birthday. There was a huge party. Pardeep got dressed early that morning & woke me up with kiss. He picked clothes for me (does that even today)! We both left for the Isckon Temple in Juhu to start the day with blessings - a first for me. At that party, I made sure there was beer! Due to commitment issues & an argument, he had moved out & I had a quick realisation! I moved in with him & told him - "You cannot leave me, because I want to wear your clothes." I took him to my favourite place - The French Window, Koregaon Park. I bought 2 sapphire rings, ribbon & a card. Ordered my favourite cake because I didn't know what he liked. Since I did all of it, I asked him to go down & propose!
Later, when we visited his hometown we went on a hike to a temple where we exchanged some vows - made-up vows 'cuz we didn't know the Hindu vows. All that jazz with nobody around - I was on cloud 9. Cousins & extended family accepted us with open arms the very first year of our dating. Then we told our parents - both of our parents were very supportive, they gave us a safe space. From a small place in Mumbai to moving into a beautiful house in Himachal - it's only love!"