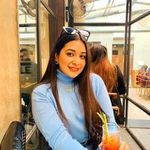 Surbhi
Delhi Cantt., West Delhi · From October of 2019
Hello Brides-to-be! I am Surbhi, and I am a community Administrator. Press the 'Message' button if you need any extra wedding help🙂
Hashtag suggestion
Minal
, The 28 May, 2022 at 20:05
Hey guys! Can you help me with hashtag for wedding Bride - Reema Shah (HR)Groom - Pranit Jain (CA)
Surbhi,

tuesday 31-May-22
3
Weddings hashtag
Mahesh
, The 28 May, 2022 at 15:49
Hello.. i need a eedding hashtag for bride- Dipika and groom - Yogesh. Kindly help
Mahesh,

thursday 2-Jun-22
3
Wedding Hashtags
Shriya
, The 28 May, 2022 at 12:44
Hi Guys!!! Can you please suggest some hashtags for my wedding... Bride: Shriya Goel; Groom: Ayush Agarwal.
Shriya,

tuesday 31-May-22
4
1
Activity
Hey Surbhi !! Please help me with some quirky and fun wedding hashtags. A named merger or pun intended hashtags will do wonders. Thanks to all in advance Smiley heart Bride Name: Dr. Kavya Vashist (Sharma) Groom Name: Saurav Sharma
Hey! Vikas and I, Neha, are getting married on 22nd February 2023 in New Delhi. We have known each other since 2019. He is from Bihar and I am from Uttarakhand. Can you please come up with a hashtag and a tag-line?
Hi Surbhi! I need a hashtag for Shruti Khiste and Vaibhav Pathak, it's their engagement and the wedding will be next year! I made up a few things but can't come up with something that makes sense. I got #ShruSeEndTak (but no one likes it haha - like beginning to End). I was thinking from her last name we have Khismet but not sure what else we can do. Thank you in advance!