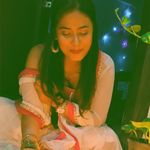 Paris
Saket, South Delhi · From February of 2018
Looking to have an Instagram worthy wedding.
Happily married 🎉
12 December, 2020

21 Days!! What do I do? How do I pass my time?
Gargi
, The 25 March, 2020 at 14:36
Hi Y'all!! Is there something you wished you could do but had all the possible excuses in the world ready as to why you won't be able to do it? Just how every problem comes with a little learning,...